Color Suite in Topography | Cheekwood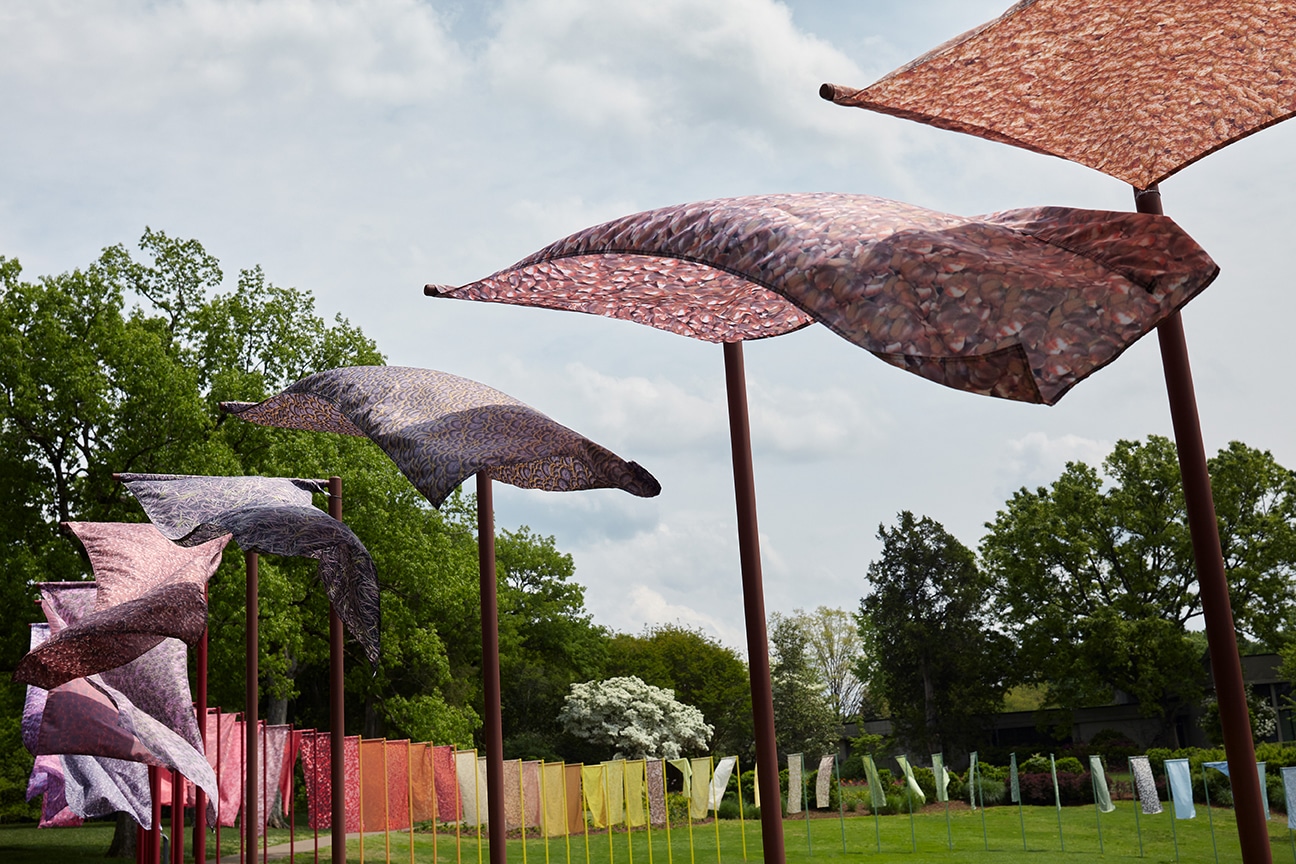 Cheekwood Estate & Gardens, Nashville, TN
May 7-September 4, 2022
COLORSCAPES is an immersive, site-specific exhibition, exploring the perception of the physical world through color, the exhibition features a series of dynamic, experiential outdoor installations and gallery interventions.
Color Suite in Topography
Inspired by Abraham Gottlob Werner's early classification of colors found in nature, the Scottish flower painter Patrick Syme published an amended and expanded version titled Werner's Nomenclature of Colours (1814). In addition to a mineral referent, Syme added an example from the animal and vegetable kingdoms for each color as well as an actual swatch to accompany the textual descriptions. While Werner had initially identified 79 shades from geological specimens, Syme included an additional 31, bringing the total number of colors to 110. Color Suite in Topography represents the whole of Syme's nomenclature, expressed through unique flag designs made from patterns of repeating flora.
Snow White, Reddish White, Purplish White, Yellowish White, Orange-colored White, Greenish White, Milk-White, Greyish White
Ash Grey, Smoke Grey, French Grey, Pearl Grey, Yellowish Grey, Bluish Grey, Greenish Grey, Blackish Grey
Greyish Black, Bluish Black, Greenish Black, Pitch or Brownish Black, Reddish Black, Ink Black, Velvet Black
Scotch Blue, Prussian Blue, Indigo Blue, China Blue, Azure Blue, Ultramarine Blue, Flax-Flower Blue, Berlin Blue, Verditter Blue, Greenish Blue, Greyish Blue
Bluish Lilac Purple, Bluish Purple, Violet Purple, Pansy Purple, Campanula Purple, Imperial Purple, Auricula Purple, Plum Purple, Red Lilac Purple, Lavender Purple, Pale Bluish Purple
Celandine Green, Mountain Green, Leek Green, Blackish Green, Verdigris Green, Bluish Green, Apple Green, Emerald Green, Grass Green, Duck Green, Sap Green, Pistachio Green, Asparagus Green, Olive Green, Oil Green, Siskin Green
Sulphur Yellow, Primrose Yellow, Wax Yellow, Lemon Yellow, Gamboge Yellow, Kings Yellow, Saffron Yellow, Gallstone Yellow, Honey Yellow, Straw yellow, Wine Yellow, Sienna Yellow, Ochre Yellow, Cream Yellow
Dutch Orange, Buff Orange, Orpiment Orange, Brownish Orange, Reddish Orange, Deep Reddish Orange